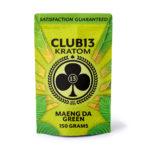 Club 13 Green Maeng Da Kratom Powder & Capsules
Regular price
$14.33
$0.00
Unit price
per
Club13's Maeng Da Green Kratom powder is here for purchase.
Our Maeng Da Green Kratom strain is known for it's relaxing and relieving qualities. This classic strain is perfect for beginners looking to ease into the world of Kratom. Available in a variety of sizes and capsules for anyone's needs, grab a bag of our Maeng Da Green Kratom powder today and see why our customers love Club13 Kratom.
Essentially, our Green-vein strains can best be defined as the middle sibling in the Kratom family. If you can't decide between the "cool" red-vein or the "hot" white-vein, then perhaps your goldilocks, "just right" vein is the green. If you're looking to add some pep to your day, while maintaining a calm mood, our Maeng Da Green Kratom is the best of both worlds.
Because of Kratom's strict growing requirements, Club13 sources our Kratom directly from the jungles of Indonesia. These jungles provide an ideal environment for growing Kratom. All of our Maeng Da Green Kratom products are grown and tended with care and harvested at maturity. 
In conclusion, Club13 guarantees our Maeng Da Green Kratom will provide you with a seamless experience throughout your day. Grab a bag of our Maeng Da Green Kratom powder and see for yourself why people can't get enough of Club13's premium Kratom.
If you would like to return a product for exchange, replacement, or refund, please email our customer support at support@fogfactoryhr.com.
Please provide as many details as possible, including:
Order Number – this can be found in the order confirmation email.
Your Full Name
The Shipping Address
The Billing Address – only necessary if it differs from the shipping address.
Phone Number
Reason for Return – be as specific as possible.
If the return is approved you will get further directions on shipping the package back to us.
---
Terms & Conditions:
If utilizing an approved Prepaid Card, Fog Factory New London LLC will attempt to refund the payment method within the scope of our refund policy. Fog Factory New London LLC is not responsible for refunds to a Prepaid Card in the event that the cardholder no longer has possession of the Prepaid Card utilized in the transaction.
All electronics have a 45 day warranty. Please keep your receipt until this time period is up – a return can not be completed without the receipt. 
Any cosmetic damage from the Manufacturer must be reported within 48 hours of delivery or pickup.
You may return unopened and unused items for a refund within 7 days of purchase. Delivery fees will not be refunded after the package is delivered.
You may not return any opened or used products for hygienic reasons. Products are non-refundable once they have been opened or used.
We may charge a 15% restocking fee if the original product is not in brand new condition or the original packaging you are returning is defective.
When a promotional item included in the original transaction is not returned, the value of the promotional item will be deducted from the refund amount.
To return a product, you are responsible for getting the product back to our store location.
---
Please note that we may request for you to provide us with pictures of damaged or defective merchandise prior to returning them. We may also email you with troubleshooting steps in an attempt to save you the time of returning the items.
Since quantities of products may be limited, you can expedite an exchange by placing a new order and returning the unwanted merchandise. This will be at your cost and once the unwanted item has returned to us, we will refund you for the items.
---
We check all information on our website very carefully. However, an occasional error may occur, resulting in inaccurately updated information. Fog Factory New London LLC reserves the right to correct inaccurate information and are not responsible for typographical errors.
---