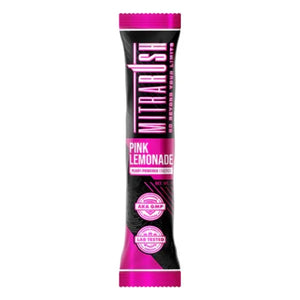 Mitra Rush Water-Soluble Kratom Drink Additive (Pink Lemonade)
Regular price
$16.50
$0.00
Unit price
per
Getting your own Mitragynine on the go is now as easy as shaking a bottle! With the use of convenient, single-serving packets, fully water-soluble mitragynine powder formulation is ready for you anywhere, anytime! Buckle up and blast through your day with 50mg of plant-powered energy and a tangy, pink citrus punch!
Say hello to the Future of Energy! Mitra Extracts brings three ways to boost your day into overdrive. Plant-based energy alternatives Mitra Fuel, Mitra Burst, and Mitra Rush contain three different potencies & three different methods of consumption to meet your needs. Mitra Fuel is an entry-level ready-to-drink 40mg Kratom energy drink perfect for newcomers to try. Take it up a notch with the world's best-tasting Kratom, Mitra Rush. Mitra Rush is a water-soluble Kratom energy alternative packed into an on-the-go-friendly packet. Just rip, pour, shake, and enjoy 50mg of plant-powered energy. The heavyweight Vessl Tech-powered Mitra Burst has a powerful 75mg of Kratom in its cap ready to burst with a twist. Kick the sugar and caffeine and check out the natural power of Mitra Extracts!
If you would like to return a product for exchange, replacement, or refund, please email our customer support at support@fogfactoryhr.com.
Please provide as many details as possible, including:
Order Number – this can be found in the order confirmation email.
Your Full Name
The Shipping Address
The Billing Address – only necessary if it differs from the shipping address.
Phone Number
Reason for Return – be as specific as possible.
If the return is approved you will get further directions on shipping the package back to us.
---
Terms & Conditions:
If utilizing an approved Prepaid Card, Fog Factory New London LLC will attempt to refund the payment method within the scope of our refund policy. Fog Factory New London LLC is not responsible for refunds to a Prepaid Card in the event that the cardholder no longer has possession of the Prepaid Card utilized in the transaction.
All electronics have a 45 day warranty. Please keep your receipt until this time period is up – a return can not be completed without the receipt. 
Any cosmetic damage from the Manufacturer must be reported within 48 hours of delivery or pickup.
You may return unopened and unused items for a refund within 7 days of purchase. Delivery fees will not be refunded after the package is delivered.
You may not return any opened or used products for hygienic reasons. Products are non-refundable once they have been opened or used.
We may charge a 15% restocking fee if the original product is not in brand new condition or the original packaging you are returning is defective.
When a promotional item included in the original transaction is not returned, the value of the promotional item will be deducted from the refund amount.
To return a product, you are responsible for getting the product back to our store location.
---
Please note that we may request for you to provide us with pictures of damaged or defective merchandise prior to returning them. We may also email you with troubleshooting steps in an attempt to save you the time of returning the items.
Since quantities of products may be limited, you can expedite an exchange by placing a new order and returning the unwanted merchandise. This will be at your cost and once the unwanted item has returned to us, we will refund you for the items.
---
We check all information on our website very carefully. However, an occasional error may occur, resulting in inaccurately updated information. Fog Factory New London LLC reserves the right to correct inaccurate information and are not responsible for typographical errors.
---