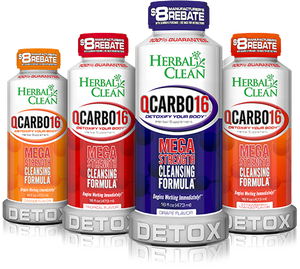 QCarbo16 Same-Day Detox
Regular price
$29.99
Sale price
$50.00
Unit price
per
Detoxify your body the right way! Herbal Clean QCarbo16 will get the job done the very same day. It's the ready-to-drink, easy-to-use, quick body detox and cleansing solution specifically designed to give a full body cleanse for those with medium toxin levels or smaller body mass.

QCarbo in this 16oz. drink has been specially formulated with a blend of minerals, vitamins and Herbal Clean's leading proprietary blend of detox cleansing herbs.

QCARBO16 INSTRUCTIONS:
For the best same-day detox results, please follow these four easy steps:
Simply shake the bottle and drink the entire 16 oz. content at a comfortable yet consistent pace.
Refill the bottle with water and drink at a comfortable yet consistent pace.
Part of the detox process is frequent urination during the first hour after consuming the product; this is one way your body expels toxins.
Now your body has achieved the optimum level of cleanse on the very same day.
Important Tips:
Part of a successful cleanse is how well you stick to the detox plan.
Make sure you follow the instructions and the tips below.
When cleansing the system, it is important to drink as much daily water as possible.
Avoid unwanted toxins.
Best when taken on an empty stomach; however if you have a sensitive stomach, you may eat something light.
Do not eat any large meals before using this product.
If you are taking any over the counter medication, consult your physician before using QCarbo16.
Do not consume large quantities of vitamins, alcohol, acidic liquids such as vinegar or juices, nicotine, caffeine or other unwanted toxins prior to the use of this product.
Warnings:
Do not use this product if you are pregnant, breastfeeding, have kidney or gallbladder disorder or disease.
This product is not recommended for prolonged use.
This product is made with botanical herbs.
When using this product you may experience nausea, dizziness, diarrhea or cramping. If you start to experience any of these symptoms, discontinue use of product immediately. If symptoms persist seek medical assistance.
As with all herbal supplements, this product is not recommended for children without the supervision of a parent or guardian.
Keep out of reach of children.
Not intended for daily use.
If you would like to return a product for exchange, replacement, or refund, please email our customer support at support@fogfactoryhr.com.
Please provide as many details as possible, including:
Order Number – this can be found in the order confirmation email.
Your Full Name
The Shipping Address
The Billing Address – only necessary if it differs from the shipping address.
Phone Number
Reason for Return – be as specific as possible.
If the return is approved you will get further directions on shipping the package back to us.
---
Terms & Conditions:
If utilizing an approved Prepaid Card, Fog Factory New London LLC will attempt to refund the payment method within the scope of our refund policy. Fog Factory New London LLC is not responsible for refunds to a Prepaid Card in the event that the cardholder no longer has possession of the Prepaid Card utilized in the transaction.
All electronics have a 45 day warranty. Please keep your receipt until this time period is up – a return can not be completed without the receipt. 
Any cosmetic damage from the Manufacturer must be reported within 48 hours of delivery or pickup.
You may return unopened and unused items for a refund within 7 days of purchase. Delivery fees will not be refunded after the package is delivered.
You may not return any opened or used products for hygienic reasons. Products are non-refundable once they have been opened or used.
We may charge a 15% restocking fee if the original product is not in brand new condition or the original packaging you are returning is defective.
When a promotional item included in the original transaction is not returned, the value of the promotional item will be deducted from the refund amount.
To return a product, you are responsible for getting the product back to our store location.
---
Please note that we may request for you to provide us with pictures of damaged or defective merchandise prior to returning them. We may also email you with troubleshooting steps in an attempt to save you the time of returning the items.
Since quantities of products may be limited, you can expedite an exchange by placing a new order and returning the unwanted merchandise. This will be at your cost and once the unwanted item has returned to us, we will refund you for the items.
---
We check all information on our website very carefully. However, an occasional error may occur, resulting in inaccurately updated information. Fog Factory New London LLC reserves the right to correct inaccurate information and are not responsible for typographical errors.
---