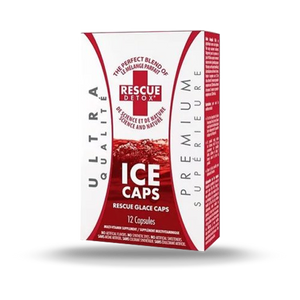 Rescue Detox ICE caps
Regular price
$39.95
Sale price
$50.00
Unit price
per
Rescue Ice Caps are our strongest temporary detox product.  We took one of our large cleansing drinks and made it into 12 capsules.  Rescue Ice Caps require about 60-90 minutes to become effective depending on several factors including metabolism and body weight. 
Intended for people who weigh more than 200 pounds or who have extreme toxin levels. Take 4 capsules with 16oz of water. Wait 15 minutes and then take another 4 capsules with 16oz of water. Wait 15 more minutes and take remaining 4 capsules with 16oz of water.
Following these simple rules will substantially increase your odds of being ready for your cleansing event.
1. It is imperative that you are toxin free for as long as possible before your cleansing deadline. 48 hours of toxin free time before a cleansing deadline is recommended but not totally necessary.
2. Water is a catalyst in the body for purification. Increasing your water consumption in the days before your cleansing deadline is very helpful in the cleansing process. HOWEVER, the day of your cleansing deadline is different as you will need to be careful to not drink too much water. Follow specific instructions on the detox packaging for the appropriate amount of water to consume on the day of your cleansing deadline.
3. You should not eat any food before and after taking a detox product. Food will absorb the detox and weaken its powers. It is recommended that you not eat for 3 hours before and after taking detox. If you must eat, avoid foods that are fatty, greasy, or filling.
4. Once you take Detox it is important to urinate. Your body has toxins in it and after taking the detox your body will need to expel these toxins via urination. It takes most people 3 urinations after taking a detox product to remove the unwanted toxins from their body in order to be cleansed. And it takes most people about 60 to 90 minutes before they can urinate 3 times. Once you have urinated 3 times your body will be cleansed and this cleansing effect will last for about 5 hours.
If you would like to return a product for exchange, replacement, or refund, please email our customer support at support@fogfactoryhr.com.
Please provide as many details as possible, including:
Order Number – this can be found in the order confirmation email.
Your Full Name
The Shipping Address
The Billing Address – only necessary if it differs from the shipping address.
Phone Number
Reason for Return – be as specific as possible.
If the return is approved you will get further directions on shipping the package back to us.
---
Terms & Conditions:
If utilizing an approved Prepaid Card, Fog Factory New London LLC will attempt to refund the payment method within the scope of our refund policy. Fog Factory New London LLC is not responsible for refunds to a Prepaid Card in the event that the cardholder no longer has possession of the Prepaid Card utilized in the transaction.
All electronics have a 45 day warranty. Please keep your receipt until this time period is up – a return can not be completed without the receipt. 
Any cosmetic damage from the Manufacturer must be reported within 48 hours of delivery or pickup.
You may return unopened and unused items for a refund within 7 days of purchase. Delivery fees will not be refunded after the package is delivered.
You may not return any opened or used products for hygienic reasons. Products are non-refundable once they have been opened or used.
We may charge a 15% restocking fee if the original product is not in brand new condition or the original packaging you are returning is defective.
When a promotional item included in the original transaction is not returned, the value of the promotional item will be deducted from the refund amount.
To return a product, you are responsible for getting the product back to our store location.
---
Please note that we may request for you to provide us with pictures of damaged or defective merchandise prior to returning them. We may also email you with troubleshooting steps in an attempt to save you the time of returning the items.
Since quantities of products may be limited, you can expedite an exchange by placing a new order and returning the unwanted merchandise. This will be at your cost and once the unwanted item has returned to us, we will refund you for the items.
---
We check all information on our website very carefully. However, an occasional error may occur, resulting in inaccurately updated information. Fog Factory New London LLC reserves the right to correct inaccurate information and are not responsible for typographical errors.
---