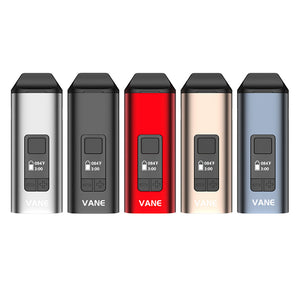 Yocan Vane Dry Herb Vaporizer
Regular price
$57.99
$0.00
Unit price
per
Designed to take on some of the best dry herb vaporizers on the market today, the Yocan Vane Advanced Portable Dry Herb Vaporizer is developed and engineered to outlast and outperform dry herb vaporizers twice its price and size.
The Yocan Vane Advanced Portable Dry Herb Vaporizer is Yocan's latest entry to the dry herb vaporizer platform and uses some of the best technologies best suited for dry herb vaporization. To begin with, you'll find that the Yocan Vane Advanced Portable Dry Herb Vaporizer is outfitted with a ceramic heating element that allows this compact and portable dry herb vaporizer to vaporize your botanicals without reaching the point of combustion. This only means that your herbs are vaporized and not burned. This is complemented by the Yocan Vane Advanced Portable Dry Herb Vaporizer's conduction oven which furthers its ability to vaporize the herbs almost instantaneously. This method of heating is paired with a precision temperature control that allows you to choose the right temperature setting to heat your herbs in depending on your needs. Higher temperature profiles allow you to extract the potent active ingredients from your herbs while the lower temperature profiles allow you to enjoy the flavorful vapor production native to your botanical plant matter. Inside the Yocan Vane Advanced Portable Dry Herb Vaporizer, you'll find a more-than-capable 1100mAh battery that juices up this digital dry herb vape and provides substantial vape sessions in between charges. And should the need to recharge your device arises, you'll have no problems since the Yocan Vane Advanced Portable Dry Herb Vaporizer uses the new USB-C technology in recharging your device.
The Yocan Vane Advanced Portable Dry Herb Vaporizer is the complete package giving you the best today's technology has to offer. If you're in need of a dependable and reliable daily driver for vaping your select dry herb strains, look no further. The Yocan Vane Advanced Portable Dry Herb Vaporizer is the only dry herb vaporizer you'll ever need.
Features:
1100mAh Battery Capacity
Magnetic Mouthpiece
Ceramic Heating Chamber
Smart Vibration Notification
30-Second Heat-Up Time
Automatic Shut-Off
Digital OLED Display
USB-C Charging
Conduction Heating
Precision Temperature Control
If you would like to return a product for exchange, replacement, or refund, please email our customer support at support@fogfactoryhr.com.
Please provide as many details as possible, including:
Order Number – this can be found in the order confirmation email.
Your Full Name
The Shipping Address
The Billing Address – only necessary if it differs from the shipping address.
Phone Number
Reason for Return – be as specific as possible.
If the return is approved you will get further directions on shipping the package back to us.
---
Terms & Conditions:
If utilizing an approved Prepaid Card, Fog Factory New London LLC will attempt to refund the payment method within the scope of our refund policy. Fog Factory New London LLC is not responsible for refunds to a Prepaid Card in the event that the cardholder no longer has possession of the Prepaid Card utilized in the transaction.
All electronics have a 45 day warranty. Please keep your receipt until this time period is up – a return can not be completed without the receipt. 
Any cosmetic damage from the Manufacturer must be reported within 48 hours of delivery or pickup.
You may return unopened and unused items for a refund within 7 days of purchase. Delivery fees will not be refunded after the package is delivered.
You may not return any opened or used products for hygienic reasons. Products are non-refundable once they have been opened or used.
We may charge a 15% restocking fee if the original product is not in brand new condition or the original packaging you are returning is defective.
When a promotional item included in the original transaction is not returned, the value of the promotional item will be deducted from the refund amount.
To return a product, you are responsible for getting the product back to our store location.
---
Please note that we may request for you to provide us with pictures of damaged or defective merchandise prior to returning them. We may also email you with troubleshooting steps in an attempt to save you the time of returning the items.
Since quantities of products may be limited, you can expedite an exchange by placing a new order and returning the unwanted merchandise. This will be at your cost and once the unwanted item has returned to us, we will refund you for the items.
---
We check all information on our website very carefully. However, an occasional error may occur, resulting in inaccurately updated information. Fog Factory New London LLC reserves the right to correct inaccurate information and are not responsible for typographical errors.
---